Hector George Campbell was born in 1931 in Hampton, St. James, Jamaica. He left home at 18 years old and walked to Montego Bay to start a life for himself.
He met Clarabell Allen while she was working next door to one of his jobs. On November 6, 2022, they celebrated 67 years of marriage.
He fathered seven children, Ernel, Errol, Paulette, Vernel, Veron, Lavern, and Rose. However, his eldest son, Ernel, passed away on December 13, 2015.
Hector has lived a very active and influential life. His main activity for a few years was helping to take care of his wife as they hold on together throughout many difficulties.
Unfortunately, Clarabell passed away on January 17, 2023.
World-Renowned Son of the Island | Hector George Campbell
He was employed by the world-renowned Doctor's Cave Bathing Club as a beach attendant in 1952. Later on, he trained as a life guard by the Royal Humane Society from England in 1962.
Then, in 1971 he received the Duke of Edinburgh Award for bringing a woman back to life. Surprisingly, she was under water for over 15 minutes when he rescued her.
This was presented by the late Honorable Sir Clifford Campbell. He was the Governor General of Jamaica and Queen of England's representative at that time.
He left the Doctor's Cave Bathing Club in October 1984 due to ill health. And, had served for 32 years. He met and became friends with people from all over the world during his time there.
Mr. Campbell, Hector, operated his Sunfish Swimming School for many years. His slogan was "From 2 to 100 years old." He also gave free lessons to children at the SOS Children's Village.
Additionally, he taught swimming lessons at the Mt. Alvernia Preparatory and High Schools. Now his students are scattered all over the world.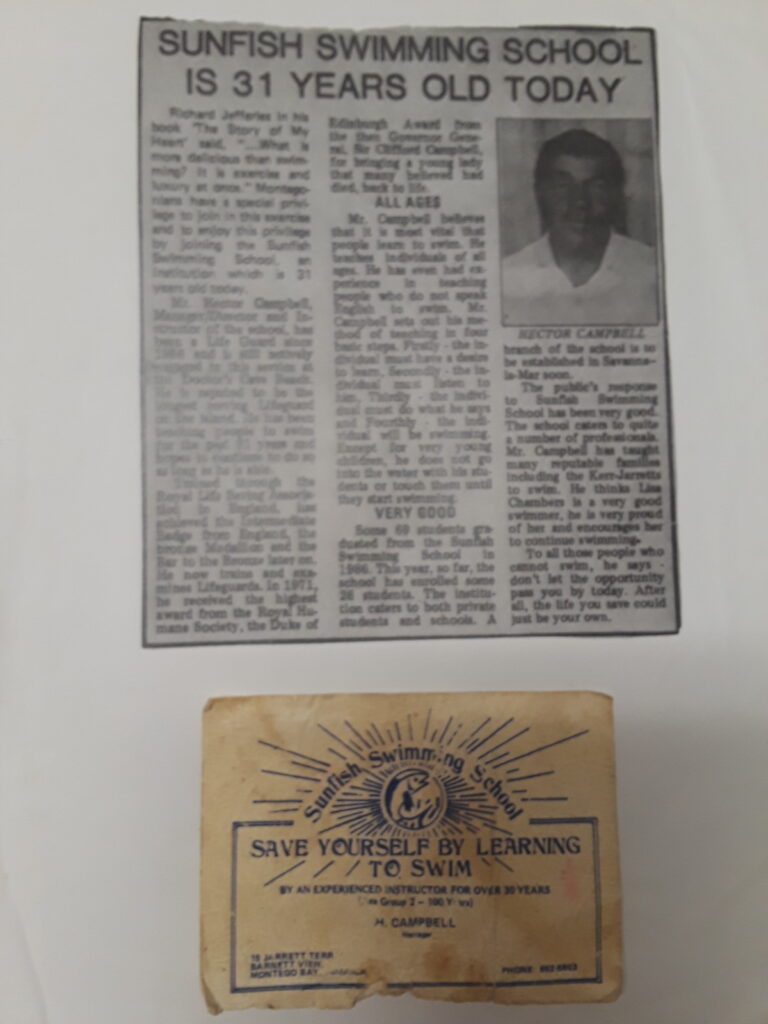 A Passion for People, the Ocean, and Farming
His mission is to save lives and encourage everyone he meets, especially young people.
Furthermore, he absolutely loves the ocean, teaching swimming and saving lives. These are remarkable and admirable skills.
People from all over the country and abroad enjoyed crops from his property. He had Graham mangoes, sugar cane and juice. There were also coconuts, bananas, avocados, egg fruit, and all types of vegetables.
Tracking Hector's Journey | Reconnecting with Friends
This website is to allow him to share his stories with people–anyone–as he continues to touch lives.
His journey is one of love, determination, adventures, difficulties, disappointments. In addition, there has been unexpected setbacks and rude awakenings.
Most importantly, it will be interesting to find people he has encountered throughout the years. His students, friends, and associates–where are they now?
So, if you have any questions or comments, feel free to leave them below. I will be more than happy to address them.
All the best,
Veron Lee Campbell Percy-Jarrett, Site Administrator and Daughter
https://hectorgeorgecampbell.com
"For thou shalt eat the labour of thine hands: happy shalt thou be, and it shall be well with thee." – Psalm 128:2 KJV