Life goes on but it certainly won't be the same in many ways. "How to Cope with the Death of a Loved One" is Hector Campbell's story.
Clarabell Allen Campbell, Lenna, passed away on Tuesday, January 17, 2023. They were married for 67 years! She was the love of his life through many trials and struggles.
That's life and marriage or relationships in general. You give and take and keep moving forward. We don't all hold out "until death" to part. But it can be a bitter-sweet blessing when it works out that way.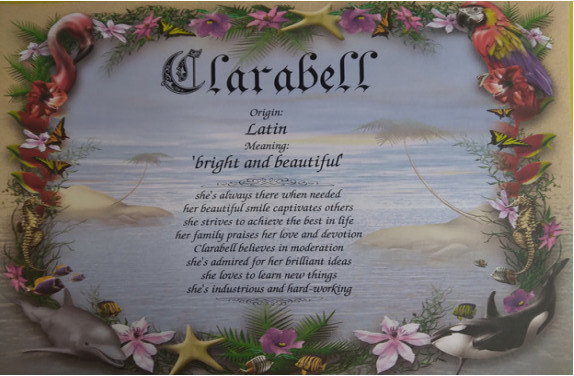 You May Have Lost a Loved One | It Hurts!
Have you lost a loved one? It hurts regardless of how that person dies. For example, we can experience some kind of relief especially when there is a terminal illness and we know the person no longer suffers.
How do you cope or how are you coping? There's no easy answer nor is there a one solution fits all. In essence, we grieve similarly yet differently, depending on our circumstances, personalities, and support group.
However, one thing some people may find helpful is to cherish the good memories. On the contrary, the not-so-good memories play an important part too.
That's because they are all a critical part of the relationship you once shared. It's the cycle of life; therefore, we experience a wide range of positive or negative emotions.
On the other hand, some of these not-so-good memories may be the reason for your growth in one way or the other. Subsequently, we learn from mistakes or other incidents that can make us stronger.
If you want to add your voice, I would love to have your input. Share with us how you are doing after a loss.
Until Death Do We Part | The Love of My Life
Here's what Mr. Campbell, my dad, has to say pertaining to losing his wife, my mother.
I am thankful for the opportunity to have Clarabell in my life for all these years. She had been a wonderful life partner and mother. This was, indeed, the love of my life!
Naturally, we have had many misunderstandings and arguments throughout the years. Despite all of that, we overcame them through love, commitment, and our faith in Christ.
I look forward to seeing her again whenever the Lord makes that possible. She was solid in her salvation and I know where she is–that glorious land where she is relieved from all suffering.
My advice to everyone is to trust the Lord when things get tough. He can turn things around in His time and according to His will. It is also important to pray and have a positive attitude.
Thank God, Clarabell and I made it to the end. To God be the glory, great things He has done!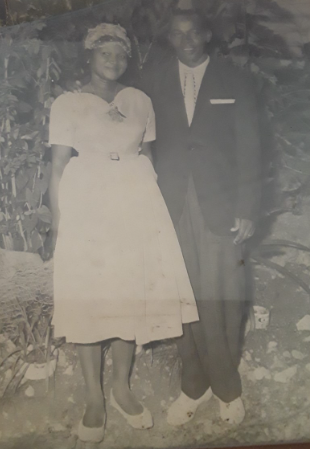 To Everything There is a Season | Beginning to End
There is a beginning and an end when it comes to physical life. The body degenerates, usually more rapidly as we get older. And life can take on a new meaning as we go through changes.
How do we cope with the death of a loved one? There are many answers coming from professional experts and those who have experienced loss firsthand.
Likewise, many who haven't felt the grief of losing someone close to them will also try to provide words of comfort. Many times these words will provide temporary relief.
This may be compared to the relief one gets from taking a painkiller to temporary mask the pain. However, it doesn't go away in an instant. And, maybe, it never will.
Because we heal differently, it's hard to determine how one person will react from another. As a result, we have to learn to be sympathetic towards each other.
For example, we can't tell someone who's hurting to just forget and move on. Of course, there will be time to move on, in some cases. But remember to show compassion.
In any event, only time will tell how well they are doing in any given season of life.
Tribute to Mom | Acronym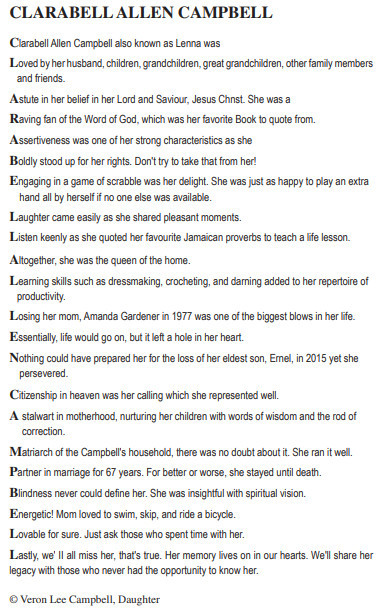 Eulogy | The Life of a Loved One
Clarabell Campbell was born February 28, 1930 at Whyms Road, St. James, Jamaica, to Amanda Gardener and John Allen. She was the youngest of her siblings and have outlived them.
Her mother brought her up in the Baptist church and she was baptized at the tender age of nine. She also attended the Hastings Primary School at Deeside, Trelawny, after which she learned dressmaking.
Subsequently, she moved to Montego Bay and lived for a while with one of her older sisters.
Clarabell met Hector Campbell while working next door to one of his jobs. They got married in 1955, and celebrated 67 years of marriage on November 6, 2022.
Hector and Clarabell had six children together–Ernel (who passed away on December 13, 2015), Errol, Vernel, Veron, Lavern, and Rose. She was also blessed with a stepdaughter, Paulette.
As was customary in those days, she was mainly a stay-at-home mom taking care of her children with the help of her mother.
Eulogy | The Life and Passing of a Loved One

The young couple made their home in Mt. Salem and later moved to Jarrett Terrace, Barnett Heights. And it was their pleasure to accommodate many family members and friends from near and far, including all over the world.
They started visiting the Mt. Salem Open Bible Church while living in Mt. Salem and then became members. She participated in activities and took part in the Women's World Fellowship (WWF).
Some years later she decided to return to her Baptist roots and joined the Calvary Baptist Church and was also a member of the Sunday School. She attended services up to the point where her health began deteriorating a few years ago.
Her children and grandchildren can recall the many Jamaican proverbs she quoted. How many times have we heard these sayings when she wanted to pass on life lessons to us…
"Dawg drink water seh fi yuh fi yuh."
Shame no load, but i bruk neck."
"Payshent man ride donki."
We must pass them on to the future generations.
Clarabell was a stalwart of her family and will be missed by all who knew her.
Acknowledgment | Thank You
We, Hector Campbell and family, extend our gratitude to friends and family for your prayers, acts of kindness, and general support.
Some of you have been with us on a journey spanning decades. You have shared the good and bad times, joys and sorrows, births and deaths.
For those of you who have traveled from overseas to be at the memorial service, we are grateful for your love and sacrifice.
To everyone near and far, we thank you. If you felt you have been left out in any way, it was not intentional. God knows only He has carried us this far and will continue to carry us
May the Lord bless you and your families!
Please feel free to leave your comments below. Share how you have coped or are coping with the loss of a loved one. We could all benefit from meaningful advice.
Veron Lee Campbell, Administrator of this website; daughter of Hector and Clarabell Campbell